YES|2022 VOLUNTEERS' SUMMER CAMP
Sep.28.2022
Though a bit later than usual, the YES Summer Camp of 2022 eventually arrived amid our earnest expectation. On August 9, we set off early in the morning for Yangcheng Lake, Kunshan, where we rejoined our volunteer friends on Yue Feng Island organic farm. Committed to the harmony between man and nature, the organic farm covers vast fields and lakes, dotted with wood huts and lined with organic fruit trees. Lovely cats wandering among the fields vivify the peaceful landscape, making the farm more attractive.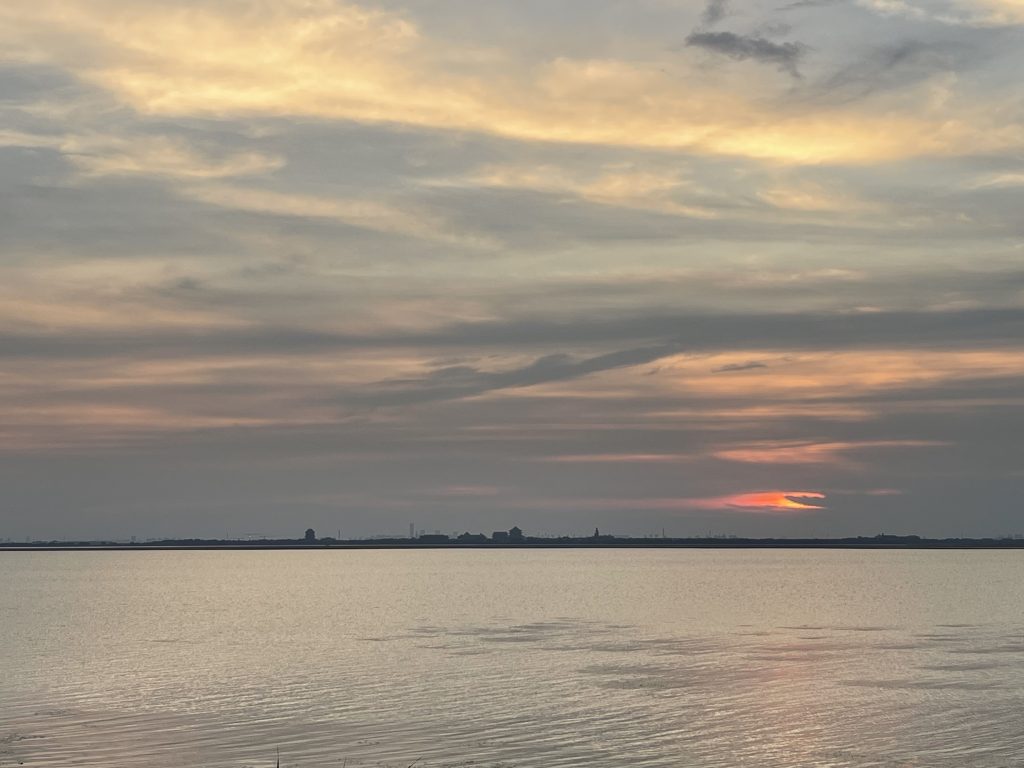 Marmalade sunset by Yangcheng Lake
By noon, guided by Teacher Fox, our warm-hearted volunteer, we reached the canteen and started our first meal, also our first lesson here: making organic rice balls. Made from organic grains directly reaped from the farm, the rice balls are easy to prepare — boiling and a little salt suffice to make them tasty. Following the demonstration, we readily rolled out our own rice balls and shared our works with each other.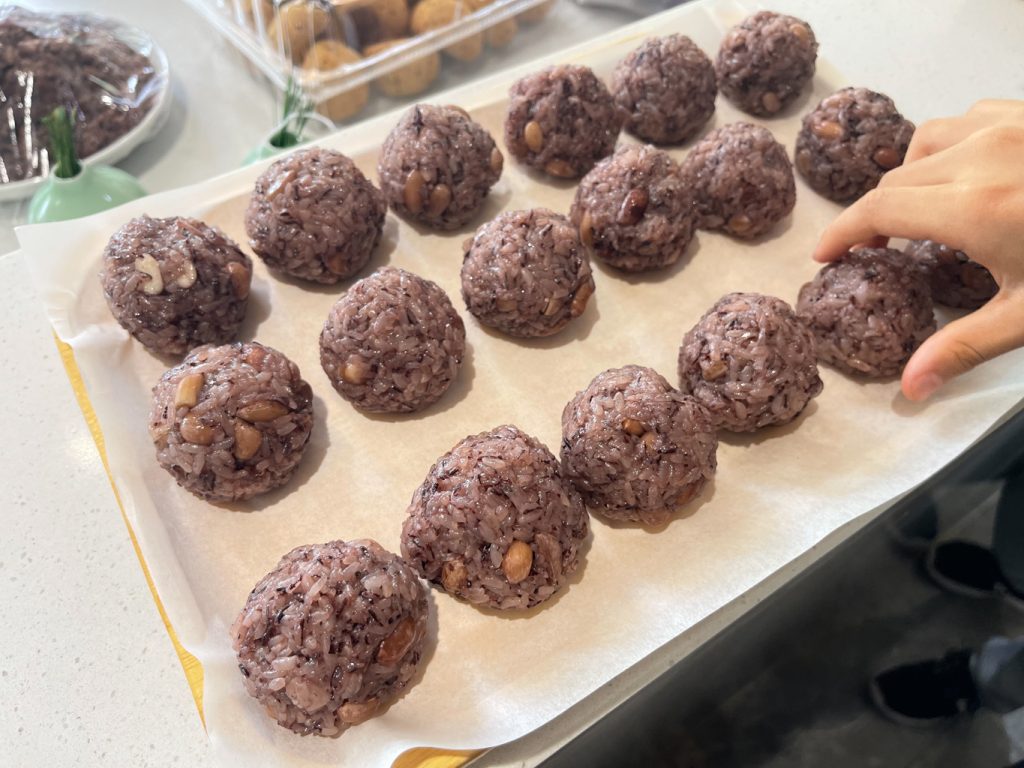 Organic rice balls: healthy and yummy!
After a short break, Teacher Fox introduced to us what a grain of rice from the field needs to go through before it reaches our table. Before mechanization, every grain of reaped rice had to be ground to fine rice through manual process. Therefore, we set our hand to rice-grinding in the most ancient method, though only grinding out dozens of grains after up to three hours of efforts. Having well learnt about the difficulties in food production through this hands-on experience, some of the kids made up their minds to avoid wasting food from then on. Later in the afternoon, the volunteers organized an interesting communication game for us, where we learned about thirteen types of Felidae in China through rounds of brainstorming in a dynamic atmosphere.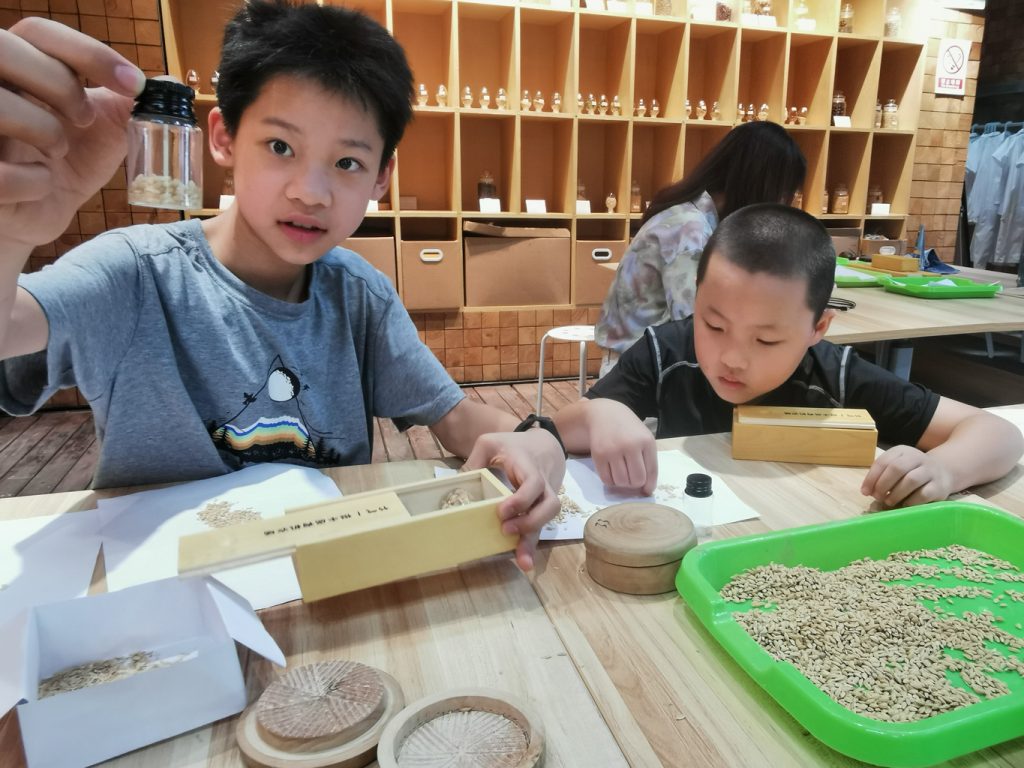 Rice-grinding is no easy task. Let's cherish every grain from now on.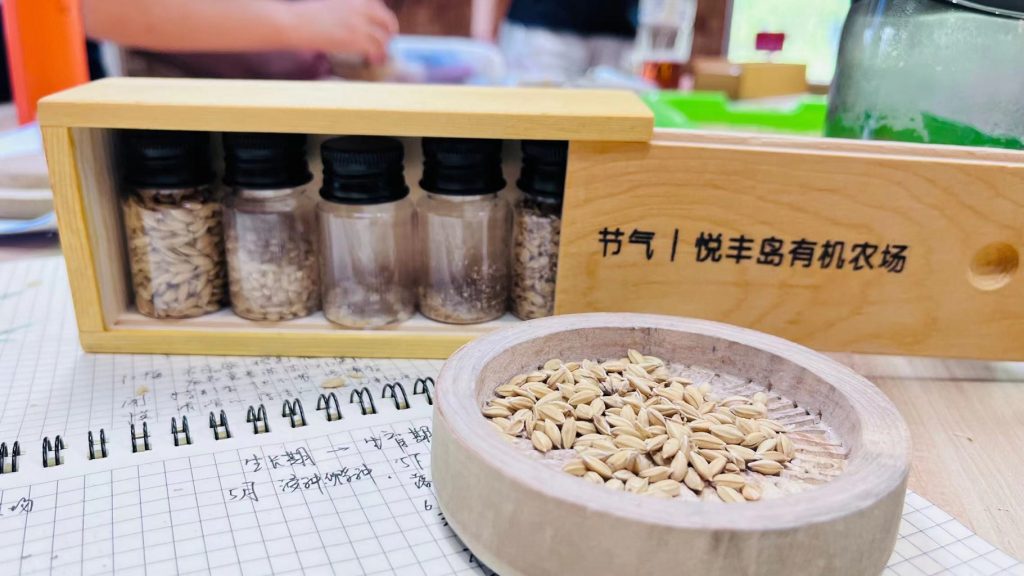 What a tiring yet meaningful experience!
As the lesson finished, all of us gathered by Yangcheng Lake to enjoy the stunning sunset in the summer breeze.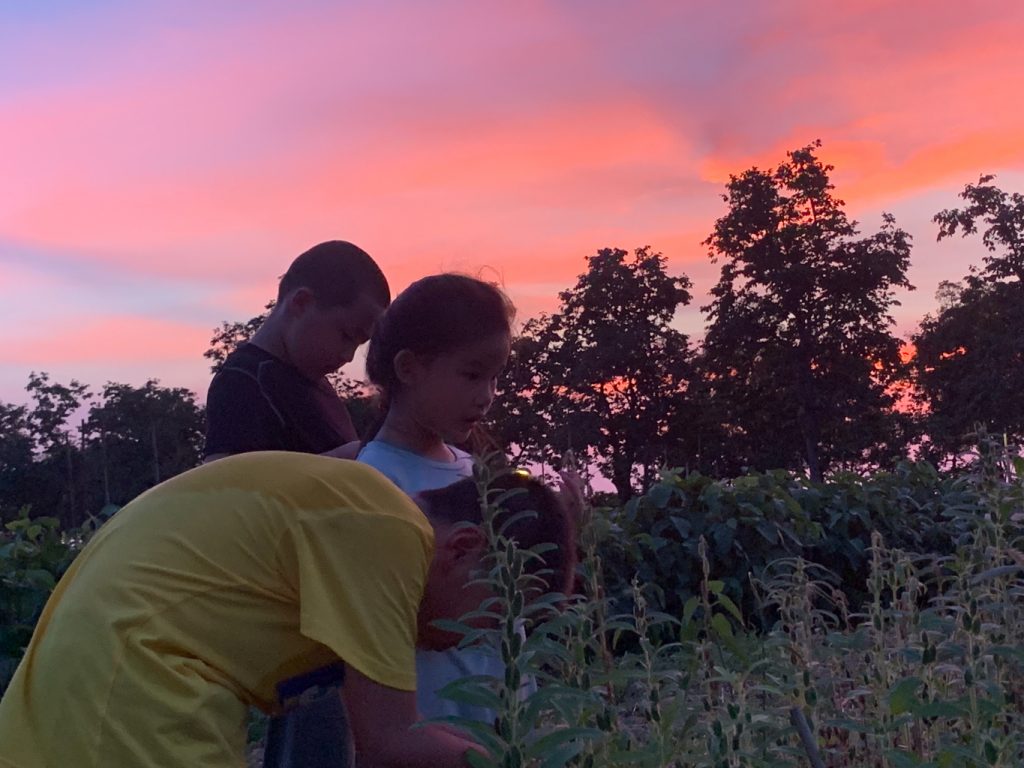 Serendipities waiting for us at every path to take
After a delicious organic dinner, we geared up for night safari on the farm, an activity that boosts one's observation and patience. A broad knowledge of insects is essential to an impressive night safari. Fortunately, we had Fox by our side, introducing every insect we came across during the safari and bid us to take a closer look. All of us were amazed by theses delicate little creatures dwelling in the all-inclusive nature.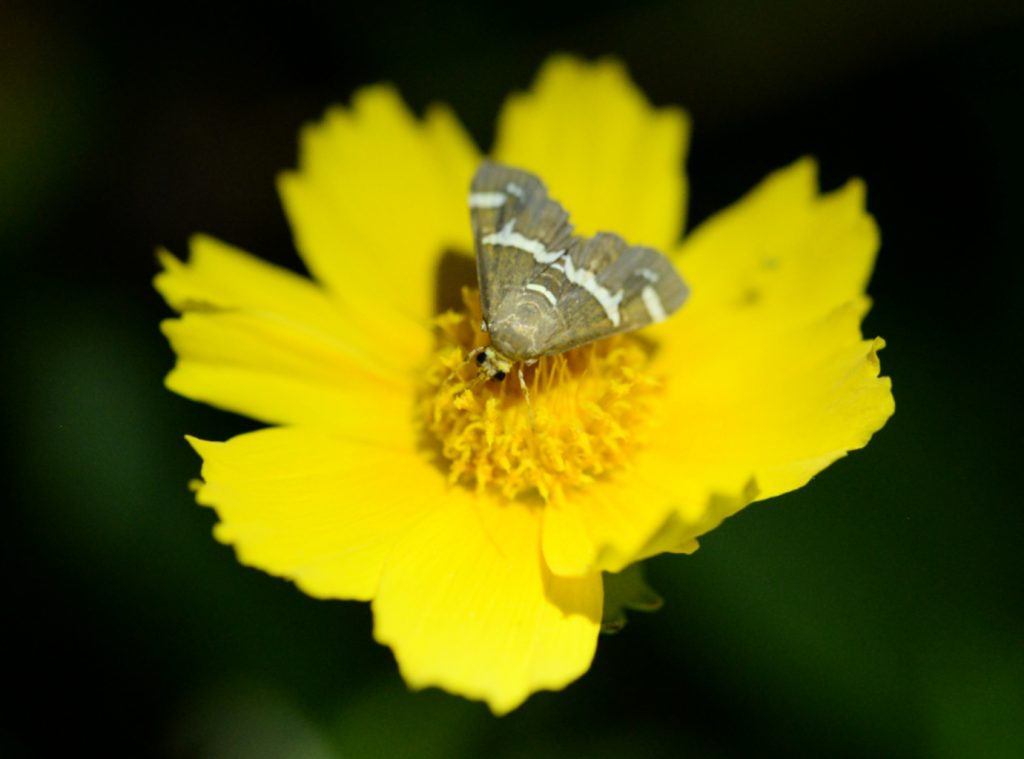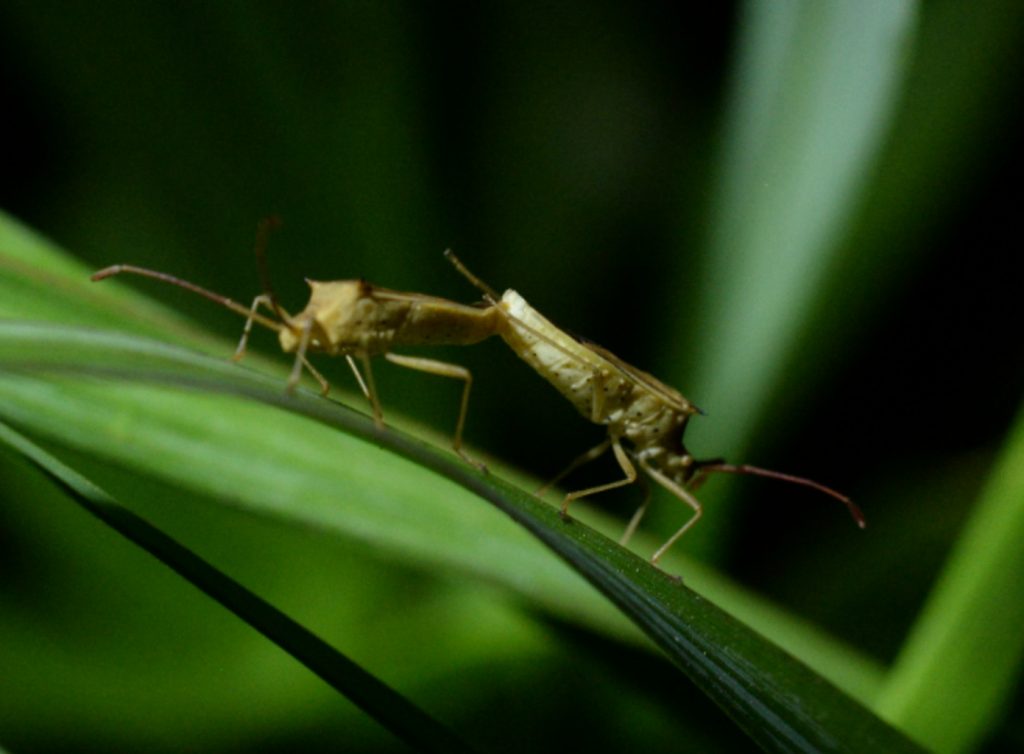 Amazing little insects in the all-inclusive nature
Photographer of the two photos above: Ziqian Zhang
On August 10, we all rose early for birdwatching. Having grasped the rudimentary about birdwatching, we set off for the birds with our binoculars and cameras. Pheasant-tailed jacanas (Hydrophasianus chirurgus), whiskered terns (Chlidonias hybrida), white-cheeked starlings (Sturnus cineraceus), light-vented bulbuls (Pycnonotus sinensis), Eurasian blackbirds (Turdus merula) and night herons (Nycticorax nycticorax) … These were just a few among the numerous birds we spot and recorded with our binoculars and cameras.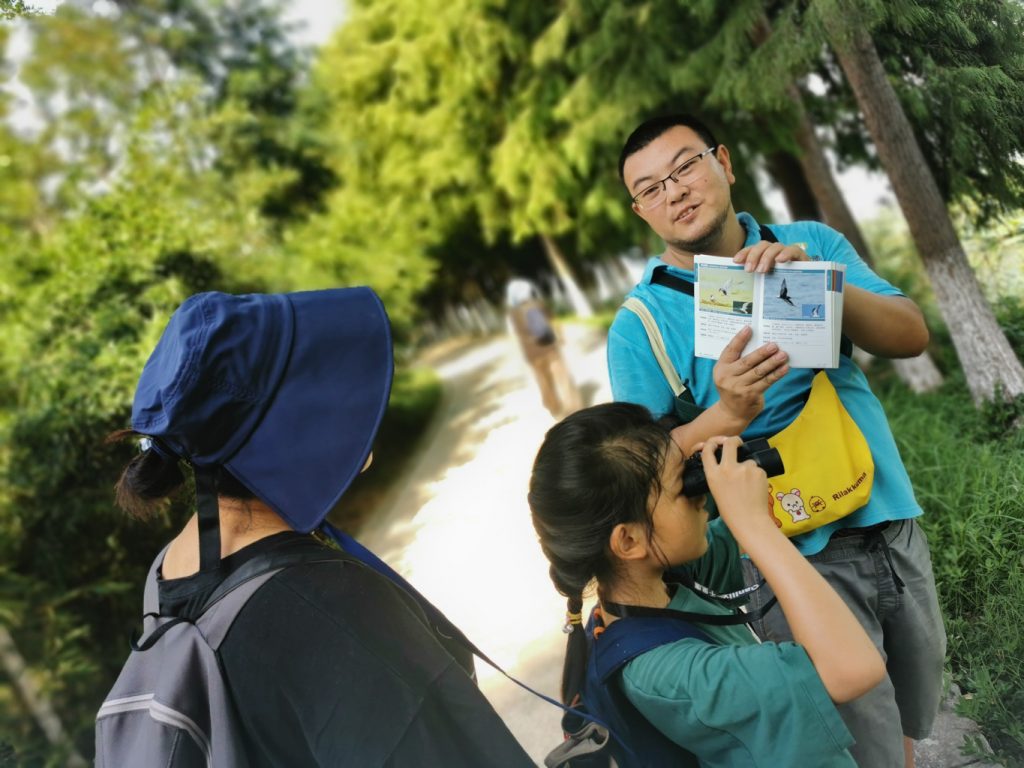 Teacher Fox teaching how to identify whiskered terns (Chlidonias hybrida)
Can you tell the birds in the two pictures above?
After birdwatching, the temperature gradually climbed up. We exchanged protective masks for binoculars and cameras and left for the apiary. All of us were somehow afraid since this was the first time for us to encounter bees in such a close distance. But we were soon relieved after Yang, who had decade-odd years of experience in bee-farming, assured us that bees would not attack humans without irritation. After directing some incense smoke into the hive, Yang slowly opened it, demonstrated the worker bees and honeycomb, and invited us to taste the fresh honey. He also told us that the quantity and quality of bee population are now suffering a plumb due to intensive farming and climate change, which alerted us to the urgency of bee protection. Then, Yang encouraged us to hold the bee-swarming frames with our own hands to have a close contact with the bees. Some of the kids plucked up their courage to hold the frames and take a photograph with these buzzing little friends.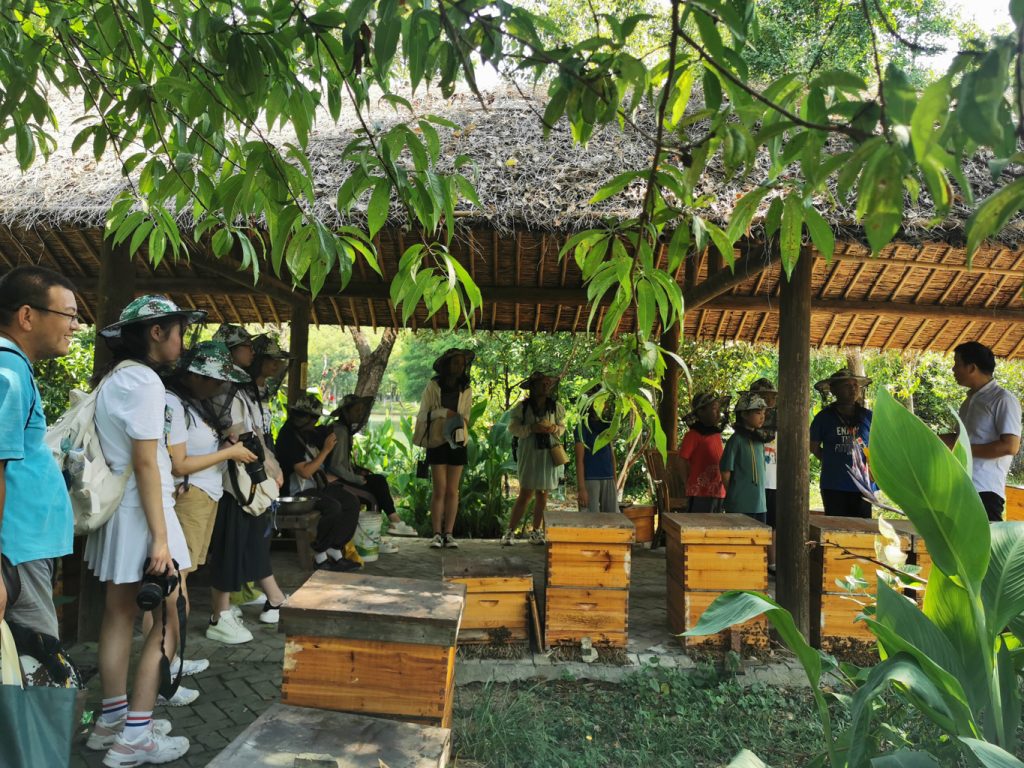 Yang telling us his story of bee-farming
Nothing to afraid. Yes, I can!
After lunch, the volunteers organized another series of themed activities for us. We were taught to make several handicrafts — herb decorations, seed necklaces and marvelous "mirror houses," which kept us absorbed for almost the whole afternoon.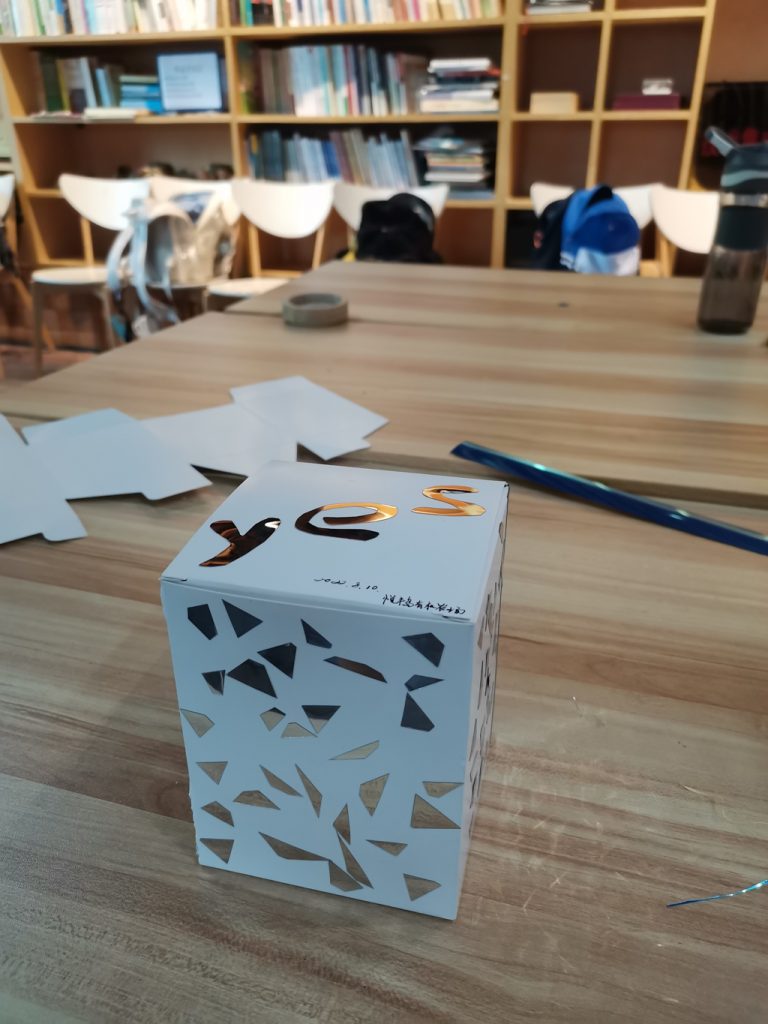 Infinite reflection in the "mirror house"
Later, we headed for the lawn in Yangcheng Lake Park to play several games, in order to experience flow learning in nature. The first round of game was "bat and moth," where the bat player, with his eyes covered, periodically yelled out "bat", to which the moth player responded "moth," so that the bat could make out the moth's position and move ahead to capture him. In the second round, the two groups took turns to cover their eyes and felt for a target tree under a partner's guidance. In the third round, all of us had our eyes covered and fumbled for the target where beats of a drum constantly came from. Each of the game was a test on our judgement, patience and cooperation. When the games ended, we excitedly exchanged our feelings with each other.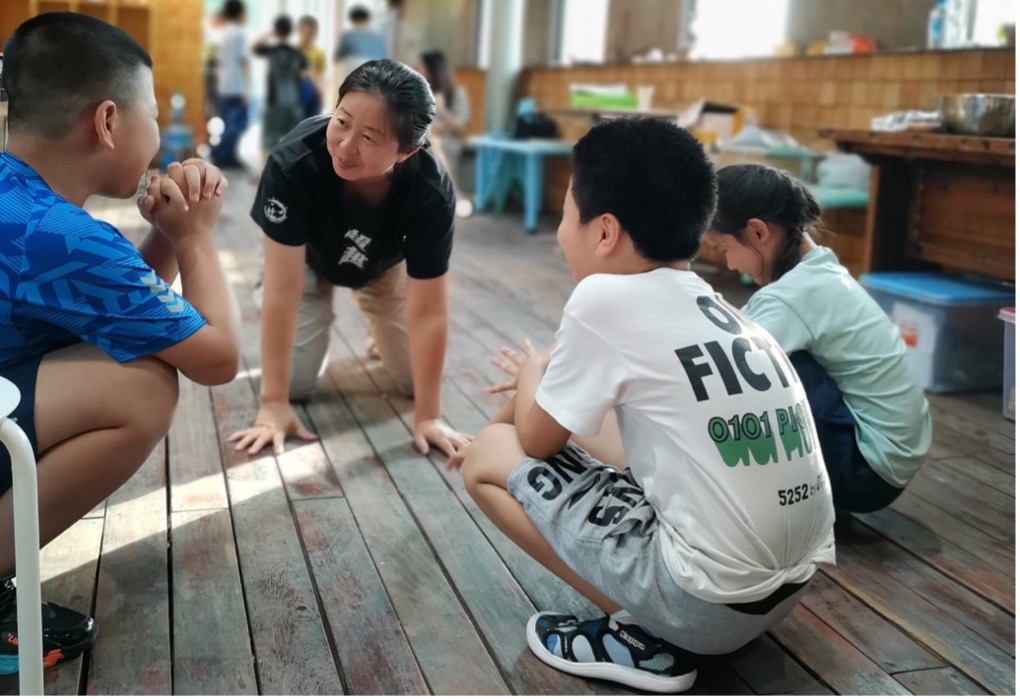 Simple games, big wisdom.
As night fell, we geared up again for night safari by the ponds of Yangcheng Lake Park, in order to watch the fireflies, a rare species in the cities. With torches turned off and breath held, all of us waited for the fireflies to appear. "Look! They've come out!" A kid exclaimed in pleasant surprise. We all looked up into the distance, where several fireflies were flying slowly in their dim glow. Beneath, the reflection of moonshine shimmered on the pound, making the whole scene all the more charming.
On August 11, we got up later than usual, when the interesting handicraft lesson prepared by the volunteers was already waiting for us. This morning, we learned how to make paper flowers, which was indeed a challenging task, as well as anti-mosquito sachets, a lovely and useful gadget for summer. As for lunch, all the kids and their parents worked to make a pizza on their own. While savoring the home-made pizza, we exchanged what we had seen and learnt during the summer camp in hearty laughter.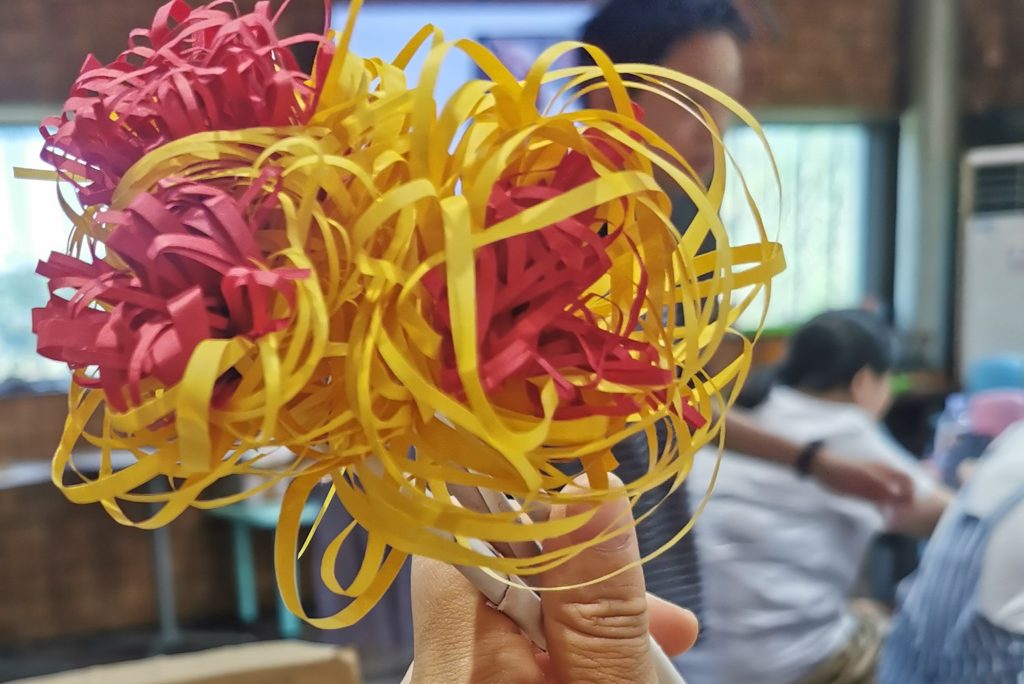 Making a paper flower is more difficult than you imagine.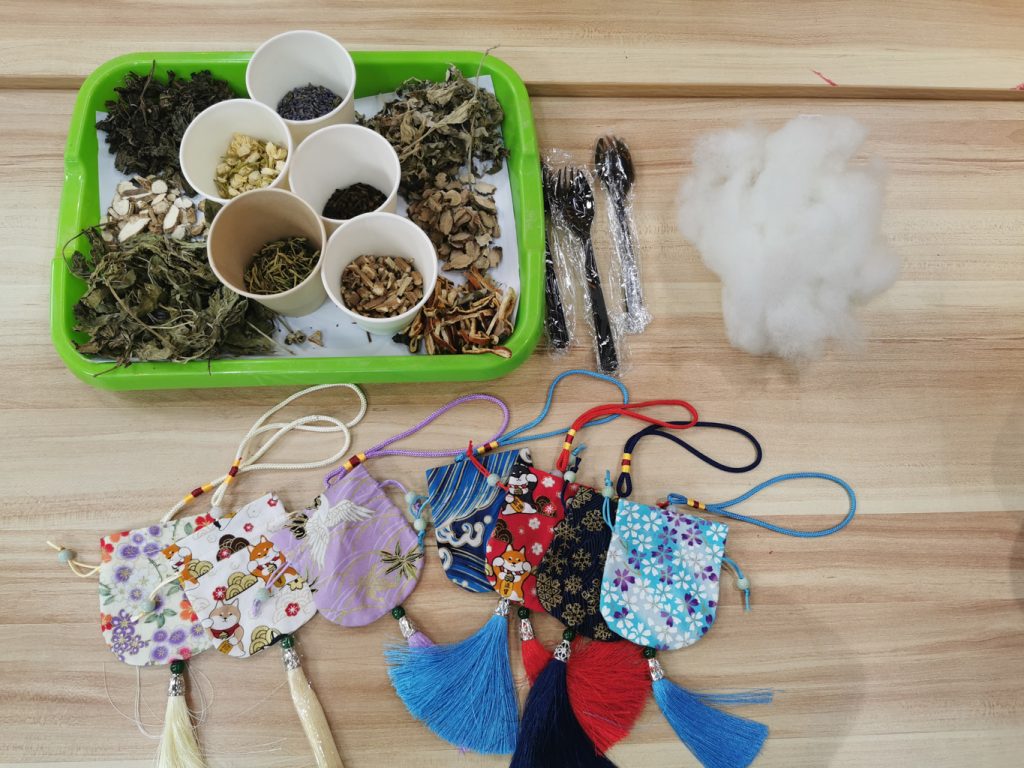 Anti-mosquito sachets, lovely and useful gadgets for summer
Before leaving the Yue Feng Island organic farm, all of us took a photograph together to record the loveable memory in the summer camp. "See you next time!" We bid farewell to each other and all looked forward to the next trip.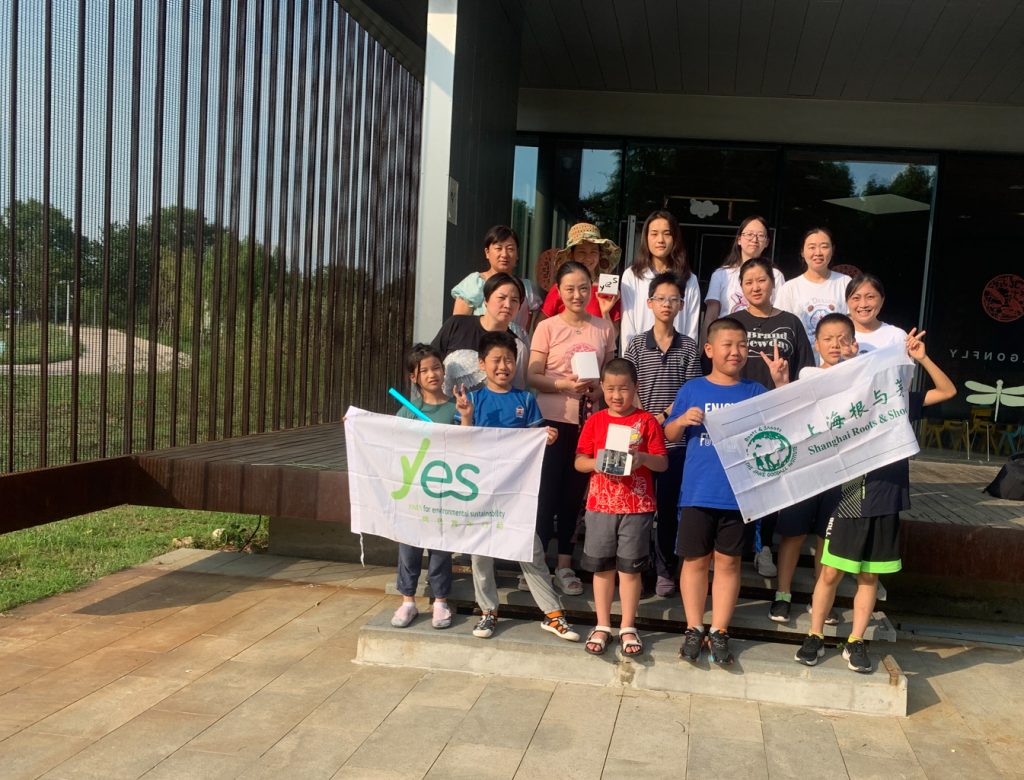 Looking forward to the next trip!
Translation: Ming JIN